Super models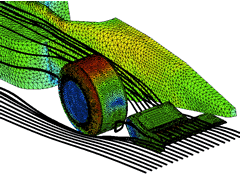 The development of computational fluid dynamics (CFD) as a design, analysis and trouble shooting tool can be regarded as one of the engineering achievements from the Department of Engineering over the last twenty-five years. It began in the area of turbomachinery and aeronautics. Prof John Denton, working at the Whittle Lab in the 1980s made important developments to the technique for application to turbomachinery blading. Complementary methods were developed by Professor Bill Dawes and then by Bill with Dr Stewart Cant and Dr Mark Savill to work on the design of the external structure of an aircraft as well as all aspects of turbomachinery affecting performance, life, cost, noise and emissions. This team, working closely together, developed very powerful and necessarily accurate tools for analysing complex flows.
The Dawes and Denton codes, as they became known are now used worldwide as an industry standard in the turbomachinery industry. The Dawes code is now being developed for much wider usage. To handle real industrial geometries, considerable attention has also been paid to automating the link between CAD and CFD via a suite of mesh-generating editing and repair techniques being developed within the CFD Laboratory.
As Dr Mark Savill (CFD Lab manager) explains: "You have to have an understanding of the system you are dealing with to use these kinds of tools, to know whether the answer you have got is sensible or not. That is where the combined expertise of all those involved in the CFD Lab is invaluable. The software that we use is a tool that was developed here, so we know intimately how it works and we have full control of the source code, which is vital when we are pushing the boundaries with our research. Not only that, we have access to experts in the fields of fluid flow, combustion, dispersion and noise who understand the physics of the processes we are dealing with and can therefore provide a sensible analysis of the program outputs.
Another key advantage of our general engineering Department is that we can also call on expertise such as heat transfer, petroleum engineering and bio and electrical mechanics and so readily develop interdisciplinary project work."
It's a hard act to beat. The formation of a CFD laboratory in the South Wing of the Baker building has already brought together activities previously pursued separately in the Aeronautics, Combustion and Turbomachinery groups. Wider exploitation of CAD-to-CFD and the use of these design and troubleshooting tools has led to an explosion of activity. One initial major success was the identification of the problem affecting turbulent flow in the combusters of gas-fired power stations, achieved in only three months, as reported in the last issue of Enginuity (no 8).
More recently, Dr Cant in particular has turned his attention to computing the flow around shuttlecocks as part of the Sports Engineering Initiative also reported in Enginuity (no. 8).
| | |
| --- | --- |
| | Shuttlecock CFD-this work is carried out in conjunction with the Sports Engineering Group at CUED. The work aims to improve understanding of the flow around a shuttlecock in flight. The CFD provides excellent flow visualisation data which corresponds very well to complementary experimental smoke flow visualisation. Quantitative information enables optimisation of the skirt design to better replicate features of traditional shuttlecocks. |
Members of the team are now looking at a wide variety of applications including the generic design of a Formula One racing car. The inter-component effects of making small changes in design are being examined as a series of fourth year projects. These are so popular that they are over-subscribed by a factor of four and successful students working in this area frequently go off to join Formula One design teams.
Another application is modelling the new lattice heat exchanger materials being developed in the Materials division, as reported elsewhere in this issue.
By modelling their flow characteristics it is hoped to optimise their design for applications such as cooling electronic components. Novel adaptive meshing techniques are now also being used to study flow of air in and out of lung alveoli and to investigate disruption of electrical current flow around a heart.
For more information about the work of the CFD laboratory, visit their web site.