The Lady Baker Memorial Fountain
The Lady Baker Memorial Fountain was unveiled by Viscount Caldecote in September 1981.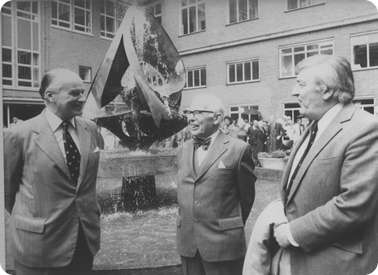 From left to right: Viscount Caldecote, Sir John Baker and Peter Lyon (Sculptor, Fellow Commoner in the Arts at Churchill College from 1979 to 1981). The engraving was carried out by David Kindersley.
Lord Caldecote succeeded Lord Hinton as President of the Fellowship of Engineering in 1981. Viscount Caldecote graduated from the department in 1939 and, after serving in the navy and at Vickers-Armstrong, was a lecturer in the Department and a fellow of King's College from 1948-55. He played a leading role in managing the design and construction of our Baker Building, working closely with Professor Baker. He had become a director of the English Electric Company in 1953 and later worked in senior positions in the aircraft industry and then in the City of London. He was a staunch supporter of all that went on in the Engineering Department throughout his life.