PhD student,Jian Chen and his partner did a traditional Chinese comic performance in 2014 Cambridge Chinese New Year Gala. It is called Xiang Sheng (Chinese: 相声), often translated as Crosstalk in English. Their performance was definitely one of the most popular performances in the Gala, and they were featured in more than 15 media including BBC China, China Daily, Huawen Weekly and so on.
The video of their performance and reports from major media can be found below:
Youtube:http://www.bbc.co.uk/ukchina/simp/multimedia/2014/02/140204_pic_cambridge_newyear_byxixi.shtml
China Daily:http://www.chinadaily.com.cn/hqgj/jryw/2014-02-03/content_11149834.html
Huawen Weekley:http://www.ihuawen.com/article/13015
Photonex Conference April 2013
There is an academic conference at UCL, London, on 9th April about Advances in photonic tools and techniques for the Life Sciences. There will be photonics tutorials and an exhibition highlighting the latest photonics techniques and instrumentation.
Please see link for more details: Photonex Website
Chinese New Year Celebrations 2013

Jian Chen invited all members of the Group to celebrate the Chinese New Year.

"On February 13th 2013, some of the group members had dinner together in a local Chinese restaurant called Seven Days to celebrate the Year of Snake. We all enjoyed the food and really had a great time there. It was also a good opportunity for some of the non-Chinese members in our group to learn about Chinese food and culture"
CPS PhD Student in BBC News Science & Environment
PhD student, Ketaki Patel, has been making news with her ground breaking publication on Quantum Key Distribution. BBC News Science and Environment, discuss at length the implications of her findings on security applications for the future, in both businesses and the home.
For further information visit: BBC website
Physics Today Article
An article in the May 2012 issue of Physics Today discusses work within CPS on superradiant short pulse generation in blue gallium nitride semiconductor lasers.
For further information visit: Article
Laser Focus World Article
An article in the April 2012 issue of Laser Focus World discusses work within CPS on superradiant short pulse generation in blue gallium nitride semiconductor lasers.
For further information visit: Article
Group Off-Site Meeting

At the end of January, a very successful 'off-site' day was held at Sidney Sussex College for all members of the Group. Ian and Richard hosted the day and, after an introduction, all members of the Group presented their research. Lunch and breaks provided the opportunity for discussion and meeting new members of the Group.

For further information and reviews of the day from members of the Group visit 'off-site'
Chinese New Year Celebrations 2012 Xin Nian Kuai Le

Tongyun Li invited all members of the Group to celebrate the Chinese New Year.

"On 26 January, the group members got together at the Seven Days restaurant (one of the most popular Chinese restaurants in Cambridge) in Regent Street to celebrate the Year of Dragon. It was the first time for many non-Chinese members in the group to try some authentic Sichuan spicy food. We all enjoyed the first group outing in 2012. Xin Nian Kuai Le (happy new year in Mandarin)!"
Group Christmas Carvery 2011

Forty members and guests of the Group enjoyed a Christmas Carvery at Jesus College in December. The event was a great success, we were placed on the top two tables in the Dining Hall at Jesus where we enjoyed excellent food and service and were indulged with coffee and mince pies after the meal in the Master's Lodge. Our thanks go to Ian and his wife, Margaret, for their kind hospitality.
IEEE/LEOS Aron Kressel Award

Ian White received the prestigious Aron Kressel Award at the IEEE Photonics 2011 (IPC11) held in Arlington, Virginia in October 2011. The Award was presented to Ian, "for contributions in the field of III-V photonic devices for data-communication transmission and routing applications."

The Award is given to recognize those individuals who have made important contributions to opto-electronic device technology. The device technology cited is to have had a significant impact on their applications in major practical systems. The intent is to recognize key contributors to the field for developments of critical components, which lead to the development of systems enabling major new services or capabilities. These achievements should have been accomplished in a prior time frame sufficient to permit evaluation of their lasting impact. The work cited could have appeared in the form of publications, patents products, or simply general recognition by the professional community that the individual cited is the agreed upon originator of the advance upon which the award decision is based. The award may be given to an individual or group, up the three in number. The award is administered by the Aron Kressel Awards Committee and presented at the LEOS Annual Meeting.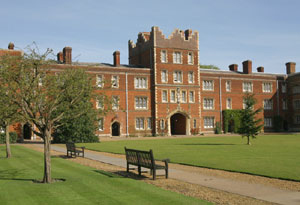 Ian White elected Master of Jesus College
An extract from the Jesus College website.
At a meeting in Chapel earlier today the Fellowship elected Professor Ian White to succeed me to be the 40th Master of Jesus College with effect from 1st October. Professor White is a Jesuan; he was an undergraduate, graduate student, and then Research Fellow at Jesus, and he is currently a Fellow of the College. In the University he is Professor of Optical Communications in the Engineering Department and Head of Photonics Research, and he is also Pro-Vice Chancellor for Institutional Affairs. I am delighted to be handing over to such a distinguished successor and I have every confidence that the College will thrive under his leadership.
Professor Robert Mair CBE FREng FRS
Master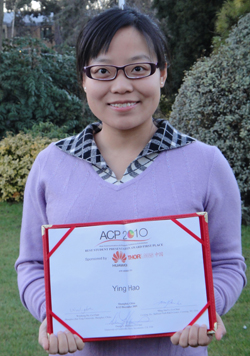 Ying Hao wins Best Student Presentation Award at ACP 2010
Ying Hao, a third year PhD student in the Centre for Photonic Systems in the Electrical Engineering Division, was delighted to receive a Best Student Presentation Award in the Asia Communications and Photonics Conference, ACP 2010, for her paper "Design study of light-guiding plate in backlighting system". Ying's paper described the design of a light-guiding plate based on low-cost polymer materials, suitable for use in liquid crystal display backlighting systems, and was chosen as the best paper in the category Displays and Solid Lighting.
The Asia Communications and Photonics Conference (ACP), held in Shanghai in December 2010, is Asia's premier conference and exhibition in the Pacific Rim for photonics technologies, including optical communications, biophotonics, displays, illumination and applications in energy. There were 400 student papers accepted and 6 topics were judged by marking the shortlisted candidates' performance based on contents of paper, skills of presentation, and performance of answering questions.