People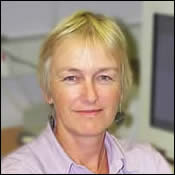 Sue Jackson
Dr Sue Jackson joined the Department of Engineering at Cambridge in 1999 to produce a booklet and website to commemorate its 125th anniversary.
She writes and produces the Engineering Department's Newsletter 'Enginuity' as well as news stories, on a regular basis, for the Department's home page. She is now involved with developing the Department's publications and website for admissions, research and teaching purposes. She supervises a number of fourth year projects on the development of interactive web-based courseware.
She has an active interest in Outreach activities, and works with members of the Department to prepare engineering activities for National Science Week and for the Department's Holiday Lecture series.
She is also lecture coordinator for SeeK (science and engineering experiments for kids) which is an organisation run from the Department of Materials Science aimed at promoting a love of science in Primary schools. The lectures regularly attract a full house of around 500 children aged 9-11 years from local schools.
Dr Jackson continues to maintain an interest in Materials Science by teaching practical sessions for the first and second year materials course as well as summer schools for potential engineering applicants.
Background Information
Dr Jackson graduated in Natural Sciences at New Hall, Cambridge, and her PhD was on the fatigue of aluminium alloys. She worked at the Welding Institute (now TWI) Abington for eight years as a welding engineer, before moving into publications. She was Editor of the Research Bulletin, Assistant Editor of Metal Construction, and producer and presenter of the TWI's Video News. Since leaving the Welding Institute in 1985, on the day her daughter was born, Dr Jackson continued to work in the area of scientific editing and writing, launching the Engineering Department's Newsletter Enginuity in 1993, Material Eyes for the Department of Material Science and Metallurgy in 1995 and GeoCam for the Department of Earth Sciences in 1999.
She joined the Department of Material Science and Metallurgy as a Research Assistant in 1990, working in the Joining Group, with Dr Rob Wallach. In 1997, Dr Jackson was awarded a Daphne Jackson Research Fellowship at Lucy Cavendish College, to work on a project on assessing the formability of laser welded steels for lightweight vehicles.
She is a Fellow of Lucy Cavendish College, Cambridge.