Life on the ocean wave
Well, the proof of the pudding is in the eating, as they say, so Dr Bligh just had to design and build a yacht. The end result, the Lady Bounty, is pictured here, shortly after her launch in July of this year. The real thing looks very like the computer image generated during the design process, and turns out to be a dream to sail, as well as a dream come true for the Bligh family.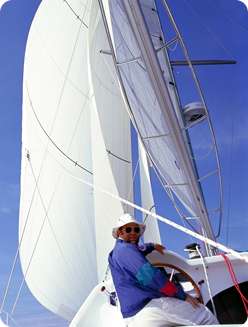 Dr Bligh explains that the radical parts of the design are the underwater shape - the narrow hulls, the swept keel and the cannard boards, which are lowered towards the front of the hulls to provide a balancing of the lateral forces during any point of sail, something that normally has to be done using the rudder, with consequent inefficiency. Using these boards, the catamaran can easily be kept on course, even in relatively rough seas. This and the central positioning of the engine add to the seakindliness of the yacht - very important for Dr Bligh's wife Nigel, who is prone to seasickness.
Although the yacht sails so fast that it has yet to be overtaken, (top speed 17.5 knots, so far) the radical design has not compromised on comfort. The captain and crew can relax around a dining table that sits eight and then retire to the comfort of queen size bunks, to dream of a life on the ocean wave.