A Better View
A 10 inch display has already been built and has been demonstrated. The set up is show below.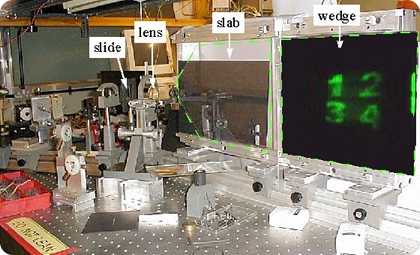 A company Cambridge 3D Display Ltd was founded as a spin-off company from the Department of Engineering in 1999 to develop and license proprietary technologies that form the operating systems for flat panel video displays and key components for optical switches. In November 1999, 'The Wedge' won a Department of Trade & Industry SMART award.
Cambridge 3D Display Ltd's optoelectronic FPD platforms offer significantly higher performance and lower production costs than any current or emerging alternative. The platforms can reduce production complexity and display materials intensity to such an extent that flat panel displays become directly cost competitive with conventional cathode ray tube displays. Not only will the proprietary technology platforms support products that cover a large proportion of the existing display market but several of the platforms can be refined to provide 3D images.
Companies interested in learning more about these or other 3D displays and associated optical switching products should contact Cambridge 3D Display directly.