Broadband Wireless Systems
Background
Internet access is of growing economic and political importance. However it is clear that low bandwidth dial-up access is restricting the services and applications that can be offered. Broadband Wireless Access Systems remove such restrictions and permit broadband services to be introduced quickly and cost effectively.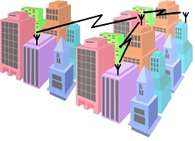 As shown in the diagram, it is usual for broadband wireless systems to employ a point-to-multipoint configuration to deliver service to customers.
The research in this area is focussed on the technology required to deliver via wireless systems the ever-rising data rates demanded by Internet users. The aim is to build systems that achieve transmission rates in excess of 100MBit/s.
Demonstration Network

To gain practical experience a world leading demonstration network is being set up in Cambridge. A base station has been installed at Addenbrookes Hospital and a rising number of trial users are being connected to the network. An early aim is to connect College hostels, some of which do not posses high speed network access at the moment.
Wireless equipment for the trial is provided by Adaptive Broadband Ltd and AT&T are providing networking support.