| | | |
| --- | --- | --- |
| | enginuity | |
ACDMM (Advanced Course in Design, Manufacture & Management)
Imagine going into a company with an experienced staff and established working practices and being asked, as a raw graduate, to solve an engineering problem, and then present the results to the workforce, in the space of only two weeks. Well, that is what is expected of the graduates who undertake the Advanced Course in Design, Manufacture & Management (ACDMM) offered at Cambridge and run jointly with the Universities of Durham and Lancaster.

John Davies, during the 1993/94 ACDMM, at work in a major chemical company investigating the ability of fluidised bed coolers to remove dust from the product.
John Gatiss has recently taken over the running of the one-year postgraduate course from Mike Sharman, who was awarded an MBE this year for providing the driving force to create the course.
In one year the course actively develops the skills that graduates would take many years to develop in industry. 'Industrial situations require divergent thinking rather than the convergent thinking necessarily developed by students in the conventional engineering approach to problem solving,' explains Mr Gatiss. 'One can draw a parallel between this type of training and the clinical training provided for a doctor. The graduates, working in pairs for two week stretches, with a variety of firms all over the country, provide 160 man-hours for a company to look at a specific problem. Not being inhibited by traditions and existing working practices, they can often come up with innovative and practical solutions simply by asking questions, modifying things and making proposals. In this way, they learn how to communicate effectively and how to persuade people to think in a new way, which are skills cherished by industry, and not easily come by in any other way.'
Graduates will tackle nine projects of this sort in their year, as well as attending lectures which teach them about finance, management, industrial relations and quality control. They will also make structured visits to some 60 companies ranging from shoemaking to steel making to aircraft, power stations, coal mines and food manufacturers etc.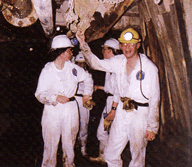 Members of the 1992 ACDMM two miles underground in a South African mine.
Completion of the course is counted as one year towards the professional qualification of chartered engineer. It is a mark of its success that the Sainsbury Foundation has made over £1M available to double the number of places on the course to seventy-two.
Further information from Mr Tom Ridgman on: (01223) 332729.