Professor Sir John Fleetwood Baker (1901-1985)
Baron Baker of Windrush
Professor of Mechanical Sciences and Head of Department, 1943-68
In 1943, when John Fleetwood Baker was elected Head of Department, the Engineering Department was staffed by 24 lecturers and there was one other chair.
By 1968 when he retired there were 111 teaching staff, and 26 members of staff had left Baker's teams to become Professors at other universities.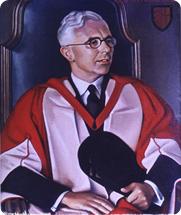 Soon after he came to office, Baker put forward plans to revise the Tripos, introduce post graduate courses and develop research. Complete proposals for the development of the site were ready by 1948 and the block which is now known as the Baker Building attracted the first funding to become available for university building programmes after the war. Building was started a year later and completion with an opening by the Duke of Edinburgh, took place in 1952.
One of the graduate courses introduced by Baker on 'Theory of Structures and Strength of Materials' led in 1964 to the Advanced Course in Engineering Design Methods, which has now become 'The Advanced Course in Design, Manufacture and Management' (ACDMM).