At the same time he worked on marine steam turbines. Parsons began his experiments using a 2ft model boat towed by a fishing rod, and scaled these up to a full sized ship, the Turbinia in 1894. Ewing took part in these trials.
It is reported that the Turbinia gate-crashed the Spithead review in 1897. Immediately after the Royal inspection of the fleet by Queen Victoria, the Turbinia appeared, weaving in and out of the warships at a speed of 30 knots, uncatchable.
The bold crew consisted of the Director of Parsons Marine Steam Turbine Company, Alan Campbell-Swinton with Charles Parsons, FRS as chief engineer, and Dr Gerald Stoney, FRS stoking up the boilers in the engine rooms.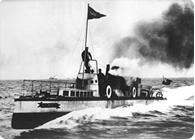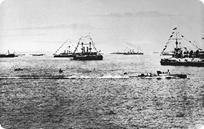 Turbina weaving between the warships