Professor Frank Fallside
Professor of Information Engineering 1983-1993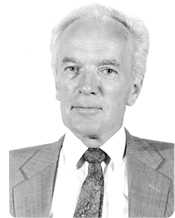 Frank Fallside was a pioneer in the area of information technology and speech processing. He joined the Department in 1958, his early work being in the field of control systems. In the 1970s, he changed the direction of his research into the area of speech processing, his first major contribution being the conversion of speech waveforms into visual displays of the speaker's vocal tract, a technique which was used to develop training aids for the deaf.
His work widened to the problems of using a computer to automatically generate and understand spoken language, and by the mid 1980s he had established one of the world's leading research groups in the area. Through the use of neural network modelling the research focus of his group also broadened into vision processing, robotics, signal processing and control.
He established the MPhil course in Computer Speech and Language Processing in 1985; this accepts students with first degrees in either arts or sciences and is taught by academics from many different disciplines across the University. He was a broad thinker and was not afraid of crossing disciplines. At the time of his death he was involved in planning a research programme establishing a bridgehead between engineering and neurobiology by the computational modelling of a fruit fly. He died in post from heart failure at the age of 61, a tremendous shock and a great loss to all those who knew him.