| | | |
| --- | --- | --- |
| | enginuity | |
Memory matters
Information overload is probably something that we have all experienced in recent years with the proliferation of published material, combined with the apparently limitless information provided by accessing the Internet and the World Wide Web. Within major companies, such as those in the petrochemical field, the successful management of not only information, but also knowledge, is becoming increasingly important.
Many of the biggest disasters and financial losses that have occurred have been traced back to human error factors, often arising through lack of communication. 'It is important that the knowledge of a way something is achieved or a problem is fixed is recorded and available,' explains Dr Tony Holden, 'otherwise the same mistakes will recur. We find that the decay of so-called 'organisational memory' is around six months, so if things are not appropriately recorded, they will have been forgotten within six months.'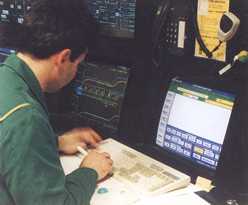 Combining expertise
The Cambridge Decision Support Group, run by Dr Holden, uses its combined expertise in information technology, artificial intelligence and engineering to develop good mechanisms for large organisations to ensure that critical information and knowledge is transferred. 'Being engineers, we can understand both the engineering involved in a company's operation, and the IT involved to make that company operate effectively. Artificial intelligence provides ways of structuring experience. In our view, practical knowledge management consists of three major factors: information, communication and memory. If good mechanisms exist for all of these, then the knowledge management within a company will be good.'
Agents for change
British Petroleum has used Dr Holden's expertise in its refinery at Grangemouth. His survey showed that major benefits should follow from simple changes, such as allowing shift workers an increased overlap time to talk to their opposite number about what has happened in a previous shift. Using down time of equipment as a measure of efficiency, significant benefits accrued. 'We regard ourselves as being agents for change, by increasing collective awareness of the importance of communication and knowledge management. By looking for patterns in the things that go wrong, decisions can be made on effective areas for investment.'
This surely is an area with vast application, not only in industry, but also within academic institutions.
Further information is available from: Dr Tony Holden, tel: 01223 332811.