The art of design
A fully working small-scale model of a deployable structure, based on research into new concepts for future space missions, is to form part of a series of exhibitions in New York to mark the centennial of the birth of Buckminster Fuller. The working model, designed by Drs Sergio Pellegrino, Simon Guest and Zhong You, shown in the above photograph, consists of a lightweight ring framework, whose deployment and folding are activated by a small electric motor controlled by a microprocessor. The thin membrane wraps around the centre when the ring is folded. The microprocessor has been programmed for a three-minute delay after deployment and a one-minute delay after folding.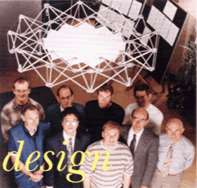 The design team with the fully working model of a deployable structure.
In practice these structures are used to deploy and pre-stress reflective mesh surfaces for space antennae but – who knows – they will probably now be all the rage for the smart set in New York. Every home will have to have one.
Enquiries to Dr Sergio Pellegrino, on (01223) 332721.