| | | |
| --- | --- | --- |
| | enginuity | |
Whittle Lab sets world industry standard
The Whittle Laboratory, centre for research into the flows in compressors and turbines, must be the envy of the many visitors who come to the site, set in the green fields of rural West Cambridge.
'This is probably one of the best places to be for this type of work anywhere in the world,' says Prof Nick Cumpsty. 'We have grown steadily by acquiring very able staff and this, combined with our close links with industry, is what has made us a world centre for turbomachinery research.'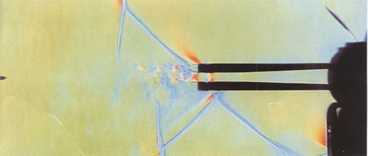 Flow in supersonic wind tunnel.
An important factor has been the stable funding provided by various organisations, in particular Rolls-Royce for about 20 years, who recognise the usefulness of suitably directed University research. Most of the money has been used for experimental work, but this now goes hand in hand with computation.
'Close collaboration with industry is worth more to us than just a source of funds', comments Prof Cumpsty, 'because it ensures that we are working on the important problems and are fully up to date.'
Programs for the calculation of flow behaviour have been developed principally by Prof John Denton and Dr Bill Dawes. This software has become almost a worldwide standard for turbomachines.
Some of the income generated by the sale of computer programs is used to buy ever-more powerful computers to further the development of the programs and the laboratory has recently installed its third generation of computers. For experimental work there are a number of low-speed machines and a high-speed cascade test facility. Everywhere the blading is designed to the current 'state-of-the-art'.