An effective spin
The research carried out under the generic heading of Geotechnical Research covers the behaviour of structures subjected to earthquakes, the influence of soil movements on structures and the rates of migration of pollutants from landfills. By setting up small scale tests using the centrifuge, for instance, the rate of spread of a plume of pollution from a landfill site which would occur over a period of 27 years can be simulated in just one day.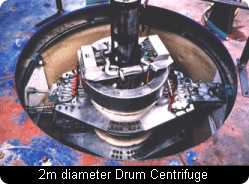 The Centre will shortly be expanding through a grant under the Joint Infrastructure Fund (JIF2) to focus on Geotechnical Process and Construction Modelling. The aim is to respond to the challenge of supporting the construction activity, and to assist in the development of new technology for construction and the environment, through a range of new experimental facilities.
For more information on Research at the Schofield Centrifuge Centre, visit the web site of the Geotechnical Research Group.