Frank Whittle
In 1939, the Air Ministry gave Power Jets the contract to develop a prototype plane for the RAF, and Britain's first jet powered flight took place on 15 May, 1941. Unfortunately the world's first turbo-jet powered flight had already taken place in Germany in 1939. Whittle was disappointed that it had taken the Air Ministry ten years to give any support to his idea, with earlier backing he felt he would have been able to supply jet powered planes for the Battle of Britain.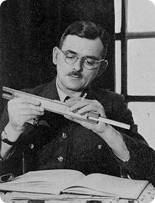 Moreover, after the war his company Power Jets was nationalised and responsibility for development of the jet engine was passed to Rolls Royce, Armstrong Siddeley and american manufacturers. In 1945 the Labour government even gave a Rolls Royce jet engine to the Soviet Union, allowing them to develop their own jet fighters.
After this Frank Whittle suffered several nervous breakdowns and was invalided out of the RAF in 1948.
He thought of his time at Cambridge with great affection and donated all of his papers to the Churchill Archives Centre shortly before he died. The Whittle Laboratory was named after him in 1972 and is dedicated to the study of the aerodynamics of turbines.