Bennett Melvill Jones
Short Biography
Bennett Melvill Jones was a graduate of Emmanuel College, Cambridge where he had taken the Mechanical Sciences Tripos in 1909.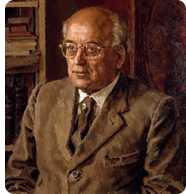 After graduating he worked variously in the Aerodynamics Department of the National Physics Laboratory and at Armstrong Whitworths where he worked on the design of airships until the outbreak of war in 1914. He was then seconded to the Royal Aircraft Establishment until 1916 when he was transferred to Orfordness, the armament experimental station established by Bertram Hopkinson who was then Head of the Engineering Department at Cambridge. Whilst there, Melvill learned to fly and served as a gunner for some weeks in a Bristol Fighter with his brother as pilot.
In March 1919 he returned to Cambridge as a fellow of Emmanuel and a member of staff of the Engineering Department. In October he was elected as the first Francis Mond Professor of Aeronautical Engineering. He was startled to learn that no provision had been made for the establishment of his new department. He was given the old servants quarters in Scroope House for an office, and part of the cellar for his research. Later he moved into a wooden hut erected in the garden by the University Air Squadron and continued to work there until his retirement.
The Aeronautics Department was amalgamated with the Engineering Department in 1931.
When Sir Melvill Jones died in 1975 at the age of 89, his life had spanned virtually all the major advances in twentieth century aerodynamics.