John Fleetwood Baker
Plastic Theory
In the twelve years from 1936 to 48, Baker had developed his work on Plastic theory to the point where it could be used in practice. However the fundamental theorems had yet to be formulated.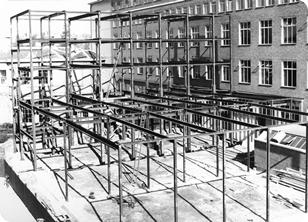 Baker Building Centre Wing under construction
In 1948, Baker set up a collaboration with W.Prager at Brown University, through which the rules for plastic design were finally arrived at. A two volume account of the history of the steel skeleton was published by Baker in the 1950s, and in the 1960s the plastic theory became central to undergraduate teaching.
Lord Baker left all his papers to the Churchill Archives Collection on his death in 1985.
Despite its intellectual attraction, the practical application of plastic methods advanced only slowly. With the advent of computers, the present day practical designers have discarded rational plastic methods for the design of straightforward structures, as the elastic calculations have been computerised and are easier to use. However, there are critical applications where the use of plastic theory is coming to the fore, such as the recent work on bridge evaluation carried out by Dr. Cam Middleton and his team from this Department.